Neuauflage des Sonderhefts als eigenständige Publikation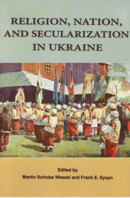 Mit Beiträgen von:
Martha Bohachevsky-Chomiak (Washington)
Tobias Grill (München)
Liliana Hentosch (L'viv)
Leonid Heretz (Bridgewater)
Kerstin Jobst (Leipzig)
Michael Moser (Wien/München)
Oleh Pavlyshyn (L'viv/München)
Frank Sysyn (Alberta/ München)
Burkhard Wöller (Wien)


John Lelan in:
Sixteenth Century Journal XLVIII/1 (2017): This collection offers useful insights into the role of religion in Ukrainian culture. (Sixteenth Century Journal, 2017)
Oleg Kyselov in:
East/West: Journal of Ukrainian Studies Volume IV/1 (2017) 233-235: "All of the essays have been written on a high academic level. They introduce some new material into Ukrainian studies and provoke reflection on wider, interdisciplinary issues". (East/West: Journal of Ukrainian Studies, 2017)

Andrew Sorokowski über die Neuauflage: "For those orious about the fate of reli- gion in Ukraine and the diaspora in our secular age, this collection offers new thinking on the essential historical background. It is available as an attractively designed paper- back with Olena Kulchytska's "Christ is Risen" reproduced on the cover." (The Ukrainian Weekly, 11.03.2016)
Barbara Skinner in:
The Russian Review 75/3 (2016): "This excellent set of articles opens new avenues of research to interested readers on the interweaving of faith, identity, and modernization in the Ukrainian past."
Andrii Krawchuk in:
The Catholic Historical Review 102/3 (2016): "This deceptively slim, yet very rich, collection provides accessible, informative, and cutting-edge historical research on a neglected area of East European studies. It will be of interest to students and specialists of Eastern Europe who wish to know more about Ukraine's diverse religious history, both on the homefront and in its contacts and interactions with Poland, Austria, and Russia".
Titelinformationen:
1. Auflage 2015
174 Seiten
ISBN: 978-1-894865-38-8